The sun's out, the days are long, and street closures abound—it's summer street fair season. What is a motorist's loss is a local business owner's gain. Street fairs, green markets, and other local events can provide ample opportunity to reach new customers and increase sales beyond your brick-and-mortar storefront.
Some small business owners hesitate to take advantage of local events. After all, when you're operating with limited staff, setting up a satellite store can take resources away from your permanent location.
Pop-up shops have different technology needs and often require a rethink of your merchandise or menu offerings. With everything you're already juggling on a day-to-day basis, it's worth questioning whether taking on an additional commitment will pay off.
All that said, with the right planning, pop-up shops can help boost sales, build brand awareness, and increase foot traffic at your brick-and-mortar. Plus, with a flexible point-of-sale, taking your business on the go is—literally and figuratively—light work.
Here are some of the topics we'll explore:
What is a pop-up shop?
A pop-up shop, or pop-up event, is a temporary retail opportunity for businesses to sell products outside of their regular retail store. Similar to a pop-up restaurant, a pop-up can either be hosted by the retail store, by taking on a short term lease, or hosted by another local business that has space for pop-ups. A pop-up can also be part of a larger marketplace where many vendors have set up shop.
Pop-ups can include exclusive items that aren't usually for sale at your brick-and-mortar or special deals and discounts to get consumers excited about your brand. Sometimes, this can involve a collaboration with the location hosting your business, such as a special spice blend, branded lip balm, or customized water bottles. Local events are great places to build relationships with other businesses and gain visibility in front of their customers, too.
Whether you're looking to create an immersive pop-up experience, or set up a simple stall with a few items for sale, there are many ways to take your business on the road and reach new audiences.
What are the different kinds of pop-up shops?
Farmer's markets
Farmer's, or green, markets are often weekly events where local farmers can sell produce. They have also become a hub for local businesses to sell specialty food items. It makes sense. You have a built-in audience of people looking for local, seasonal, often high-value food items.
These kinds of markets are an excellent way for restaurants to sell their specialty products and merchandise. For example, if you offer fresh pasta, hot sauce, or other shelf-stable products as part of your restaurant's brand, you can use a mobile POS system on your mobile phone with an optional Bluetooth card reader.
Similarly, if your retail business sells products that would be a natural fit among organic produce, like reusable tote bags or dog treats, the farmer's market could be the space for your next pop-up shop. It's a weekly, or sometimes twice-weekly, event that people look forward to and make a point to visit.
Often, tourists seek out a nearby farmer's market for a unique gift from their travels and many cities have destination markets, like the Union Square Greenmarket in New York City, New York, the Ferry Plaza Farmers Market in San Francisco, or Pike Place in Seattle, Washington.
Street festivals
For these events, the city or municipality will typically block off a section of the street from traffic to make space for musical acts, food trucks, and pop-up shops. Street festivals are often organized around scheduled performances, drawing in people interested in music, art, and other forms of creativity.
If your business sells jewelry, artwork, or unique crafts, this could be a great place to reach a creative clientele interested in your goods.
Flea markets
Flea markets are big destinations for customers looking for resale or antique items. If you sell vintage clothing, antique furniture, or pieces created from salvaged items, your pop-up shop will be right at home.
While these events can be more sporadic, they are often well-publicized in the local press, online, and on social media. Contact the event organizer, and you should find details on reserving a space and the rules you'll have to adhere to in order to set up your pop-up shop.
Art fairs
Whether or not you're located in a major city like New York, LA, or Chicago, there's likely an art fair nearby. While many business types can sell at an art fair, it's a particularly good fit for design-focused businesses looking to host creative pop-up shops.
Jewelry-makers, home goods, and decor, and, of course, artists can find plenty of potential customers at a local art fair. If your business has a creative flair, you'll be in good company.
Collaborations
Many pop-up events for small business involve setting up shop where many other businesses are also selling their products. The challenge becomes: How can I ensure my products stand out in a sea of competition?
Collaborating with another local business and hosting a pop-up event together guarantees a new kind of product and access to a different audience. A collaboration takes the products or services sold by two different businesses to create one unique offering.
For example, if you create ceramic mugs, you might seek out a collaborative pop-up shop with local coffee shops. They provide the physical space for you to hold a sale, and you provide customized mugs evoking the coffee shop's brand. It's half their idea, half your idea, and a whole world of fun for your customers.
Perhaps you have a business in mind to collaborate with. If not, you can use social media or attend local events to meet other entrepreneurs and discover compelling brands. Even virtual events, like networking coffee hours, can help you find collaborators who might be interested in hosting your next pop-up event.
How do I prepare for my pop-up?
Once you have decided on the event space for your pop-up shop, you'll want to start the planning process. Anytime you operate away from your physical location, something is bound to go wrong. You've forgotten the gift wrap, and the college students you hired over summer break are running 30 minutes late.
While many think pop-up events and chaos can run hand in hand, not all pop-ups come with a side of headaches. To ensure a successful pop-up shop, start with these key steps.
Staff efficiently
Depending on the scope of your pop-up shop, you might need multiple people to serve customers and oversee inventory. If a long line snakes around your pop-up shop, it might deter potential customers from browsing and sway them toward another vendor.
To ensure your restaurant or retail store is fully staffed when you're placing some of your employees at the pop-up shop, consider retail and restaurant labor management software. Labor management software gives your employees more visibility into their schedules and the opportunity to easily swap shifts or take time off.
Invest in reliable tech
Taking payments on the go doesn't mean you have to resort to cash-only. With a virtual terminal, you can take credit and debit card payments from anywhere—right from your laptop, tablet, or mobile phone—and access important sales data and customer profiles.
Many payment processing companies offer an optional card reader to go alongside the payment app. This ensures that no matter the event location, you can be online taking payments with minimal lead time. Just make sure your device can operate on cellular. A common challenge with pop-up shops, particularly at outdoor events, is the lack of Wi-Fi access.
Gather customer data
One of the biggest upsides to pop-up events, what makes all the schlepping worth it, is the access to a customer base who is newly discovering your brand. Successful pop-ups are not just about making sales, but making a good impression on a new audience.
Without a POS system or payment processor, you're stuck taking cash payments—a risky endeavor during a time when only 14% of Americans use cash to make a purchase on any given week. But potentially more dismaying than the attrition of card-paying customers is the lack of access to customer contact information.
With a card reader or handheld POS system, you can easily implement customer loyalty program software that rewards customers from their first visit. Or, you can send receipts via text and email. Both tools help you collect contact information and grow your mailing list so you can share marketing material and publicize your next pop-up event (or in-store events and specials).
Take advantage of the high foot traffic and encourage passersby to stay in touch with you. QR codes are helpful tools for sharing your social profiles, website, and newsletter with big groups of people. Make sure your QR code is visible at your pop-up shop so anyone can scan it to learn more about your brand.
How do I spread the word about my pop-up shop?
Making sure people know about your next event can be the most challenging part of the pop-up experience. While many pop-up events have built-in crowds of potential shoppers attached, that doesn't always translate to sales success.
If you need to bring your own clientele to the pop-up event because you're operating out of a stand-alone storefront, spreading the word about your pop-up shop is an absolute must.
If you have an existing marketing strategy for your restaurant, store, or business, share information about your event across all marketing channels. This includes social media, through social posts, and potentially a Facebook event. Content from previous events can be an effective tool to generate buzz.
Encourage followers to share details of the upcoming event with their own network. You'll also want to communicate via email well in advance so people can mark their calendars.
How do I measure my pop-up shop's success?
The portable chargers are packed, the table is broken down, and the sunshade is disassembled. When all is said and done, how can you tell if your event achieved the right goals and made an impact on your business?
Whether you're trying to breathe new life into your business or starting from scratch, a pop-up event can help you with two main goals: increasing sales and increasing brand awareness.
To track sales, you'll want easily accessible reporting that displays your sales during a given period. Find a POS company that provides the reports you need on one central dashboard. You can set goals in dollar amounts or sales of a particular item.
While pop-ups can have an impact on your monthly sales, they are often more successful at getting people talking about your brand. To see the impact your pop-up had on awareness, track an increase in social followers, newsletter sign-ups, or mentions of your event on the internet.
Hosting your own pop-up shop
It's likely that most of your pop-up shop ideas involve packing up inventory and setting up shop somewhere bustling. However, depending on your access to capital and real estate, you might want to consider hosting your own pop-up experience.
In New York and other large cities, there are often vacant storefronts available for temporary use which you can transform into buzzy event spaces or trendy pop-up shops. While new storefronts will always pique people's curiosity, making sure your existing customer base is informed that you're doing something new and exciting is key. Advertise on social media through organic and paid content and send reminders via email.
To break in the new shop, you might want to host an event to bring people in. This could involve a local musician, light bites and drinks, or playing off a theme. Even virtual events, like online ordering or shopping promotions, can help build excitement and celebrate your business growth.
How to develop pop-up shop ideas
Running a business takes creativity. A pop-up is a chance for you to showcase that creativity and experiment with concepts to see what works. Different business types will run different pop-ups. But here are some ideas to get the creative juices flowing when it comes to planning your next event.
Seasonal trends: As the seasons change, so do shoppers' preferences. This could mean a pop-up showcasing winter or summer wear, items that someone might take on vacation, or outdoor décor for increased patio use.
Upcoming holidays: Many holidays include gift-giving. Make it easy for your customers to show they care with curated gift options.
Pop culture trends: Jumping on pop culture trends can help you get some notoriety and make your business relevant for many consumers.
Food and retail collaborations: If your business sells food or retail goods, host an event where you offer the other. This gives customers an opportunity to shop in a fun, casual setting and might draw people in outside normal operating hours.
Pop-up shops give you a chance to flex your creativity muscle and connect with a different pool of customers. While pop-ups entail a little more forethought and effort than a regular shift, the boost to your brand visibility is often worth it. Plus, with the right tech, you'll feel well-equipped to make a sale whether you're behind the register or on the go.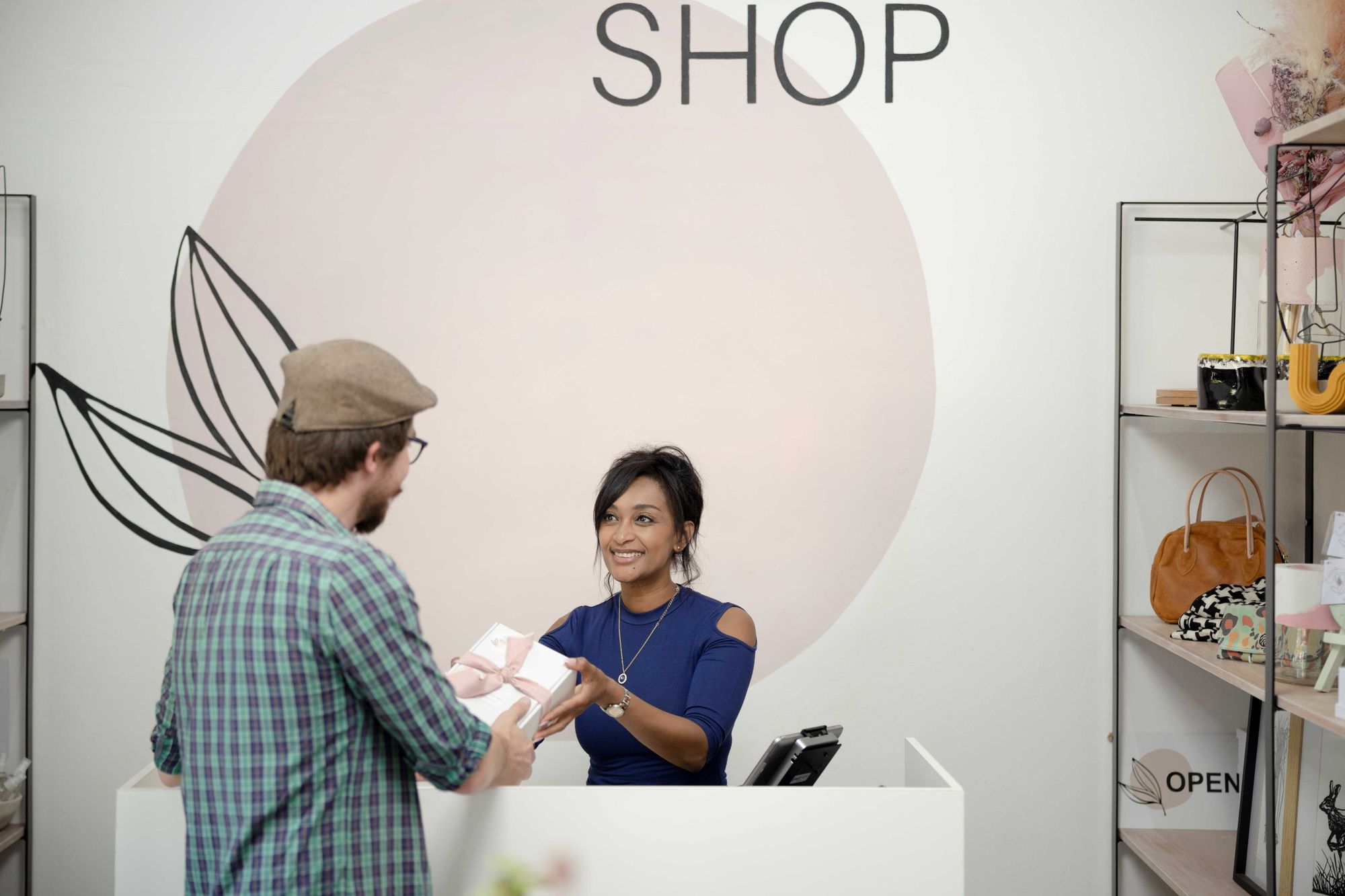 Let's see how we can help
Meet one-on-one with one of SpotOn's tech experts. No high-pressure sales tactics. Just a casual conversation to find out if we make sense for your business.
Get a demo