Point-of-sale systems are the bread and butter of any restaurant's success. But with so many options available on the market, it can be extremely difficult to choose the right POS system. There are those older legacy POS providers, such as NCR Aloha, that are migrating to cloud storage options in their technology. Then there are contemporary point-of-sale systems that utilize cloud storage in their daily operations, such as SpotOn, Clover, Toast, and even Lightspeed.
The biggest difference between Lightspeed and many other modern restaurant POS systems, including SpotOn, is that Lightspeed is an iPad-based POS system. While Lightspeed generally receives positive user reviews, SpotOn stands out from the pack as one of the fastest growing and most trusted tech companies in the hospitality field. Countless managers and restaurant operators across the country see SpotOn's point-of-sale system for restaurants as a personal favorite thanks to our local service, 24/7 support, and intuitive features. In fact, SpotOn's exceptional value has helped it consistently outscore the Lightspeed restaurant POS and competitors in real user reviews.*
As a way to make your decision for a restaurant POS system easier, we've compiled a comparison analysis between the SpotOn POS vs Lightspeed POS for restaurants, exploring the pros and cons of the two POS systems across several important categories, such as customer support, value, and more.
About SpotOn Restaurant POS
SpotOn is a software and payments company that's quickly garnered a reputation for providing powerful yet easy-to-use technology to run and grow your business. Known for its flexible, cloud-based technology and personalized support, SpotOn offers an end-to-end platform to accept payments, boost revenue, streamline operations, and create exceptional guest experiences. SpotOn's integrated product set for restaurants includes point-of-sale, online ordering, labor management, QR order & pay, waitlist & reservations, marketing & loyalty, and comprehensive reporting.
With a dedicated team of technology experts comprised of passionate people who have worked in hospitality for years, SpotOn provides intuitive technology that "works the way you work," and backs it up with a 24/7 support team who make sure it always does—with fairness, flexibility, and a personal touch. SpotOn reviews from real users highlight how SpotOn Restaurant is flexible and easy to use, how it provides exceptional value, and how it's backed by best-in-class service and support.
About Lightspeed POS
Lightspeed is a technology company offering point-of-sale and payment solutions for retail, restaurants, various hospitality businesses, and different types of golf courses as well. The Lightspeed POS for restaurants is an iPad-based system that allows users to place orders, run payments, manage employees, and perform various other business-related tasks, helping restaurants, "Increase revenue, reduce costs and use industry-leading insights to make data-based decisions," according to their website.
Lightspeed POS reviews highlight that Lightspeed is easy for front-of-house staff to use, has an integrated loyalty program, and that the company is dedicated to making product improvements. However, negative user reviews point to complicated table layout setups, slower onboarding time for new staff, and hardware and software bundling that result in surprise costs to users.
Lightspeed vs SpotOn | Capterra comparison
Comparing two different point-of-sale systems is never easy, especially when they're shown to have similar scores and ratings on websites like Capterra, a trusted online service helping organizations find the right software solutions for their operations. We've examined the real Lightspeed POS reviews to help provide an unbiased opinion for those still deciding between SpotOn POS vs Lightspeed POS systems for restaurants.
*Results current as of 08/14/2023 based on average score of all Capterra reviews for each respective company
The overall scores for SpotOn vs Lightspeed, based on real user reviews, are exactly the same at 4.4 out of 5 stars for both POS system. With both systems neck and neck across the individual categories measured, you'll want to really dive into the individual aspects of each system to determine which features and functionality are most important to running your operation.
Ease of use
Although Lightspeed POS slightly edged out SpotOn with a score of 4.4 out of 5 for ease of use, those scores are in part based on the ease of use for front-of-house staff using the iPad-based system. Some LightSpeed POS reviews claim the POS system is difficult to use and crashes frequently, that it is difficult to program multi-choice items, and constafrequently goes down without notice.
Meanwhile, SpotOn user reviews indicate that the SpotOn Restaurant POS is intuitive for new staff to learn, is easy to program, and that the personalized training during implementation is outstanding.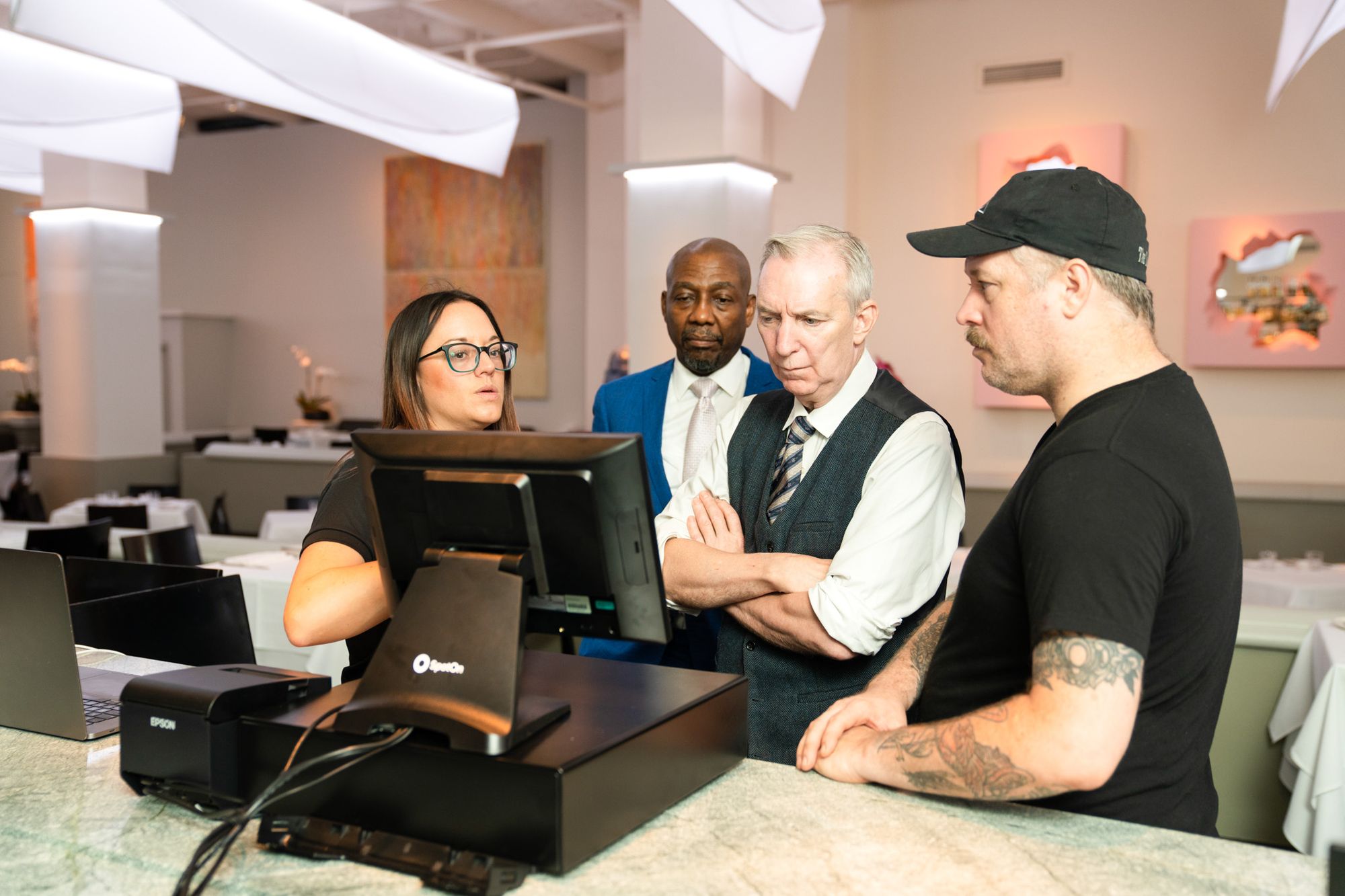 Customer service
Once again, SpotOn and Lightspeed POS are neck and neck when it comes to customer service, with LightSpeed slightly edging out SpotOn with a Capterra score of 4.4. While both systems have high scores for customer service, some Lightspeed reviews complain about long wait times, poor phoneline support quality and background noise, and that their customer service has declined in recent years.
Meanwhile, SpotOn user reviews generally point to their great customer service as a highlight.
Features
For restaurant point-of-sale features, SpotOn and Lightspeed tied with a score of 4.3 out of 5 stars. That said, some Lightspeed reviews point out a lack of functionality, including CRM features, and lack of flexibility for tailoring the software to specific restaurant needs.
Meanwhile, SpotOn is often praised in reviews for being very customizable and having excellent reporting capabilities, and helping restaurant operators streamline operations with the ability to update all stations in real-time from the back office.
Value for money
For money value, SpotOn's 4.3 score outranks Lightspeed's 4.2 rating on Capterra. Various user reviews stated that SpotOn has helped them save a ton of money,  including with their commission-free online ordering.
Meanwhile, some Lightspeed POS reviews point to reported glitches in the system, that it can be expensive compared to other systems, and that it takes too much work to keep running as reasons that decrease the value of the system. It's also important to remember that Lightspeed is an iPad system, meaning you may have to purchase separate hardware to make it work.
Lightspeed POS: overall strengths
According to different Lightspeed POS reviews on Capterra, LightSpeed has a strong reporting feature for those already knowledgeable with Excel and other data analytics. On top of those reporting features, Lightspeed continually provides updates to their software to help their clients implement a variety of new features like online ordering and delivery.
Lightspeed POS: overall weaknesses
Lightspeed Capterra reviews have written that Lightspeed's customer service often takes longer than needed, especially while services are down and limiting operations for days at a time. Some Capterra reviews have also pointed out that Lightspeed's features are buggy and often inaccurate, especially in their POS reporting options.
Find customized support with personalized tech—SpotOn
A successful restaurant takes a ton of hard work that guests will never see. Of course, you've got to make sure everyone's demands are met, on top of managing your own staff, rising restaurant costs, and so much more. That's why SpotOn is here to help you leverage flexible solutions alongside dedicated support teams built to help you succeed. Click here to find out how SpotOn would fit into your restaurant exactly.
Are you also interested in learning how SpotOn compares with other competitors? Check out the comparison blogs below to discover more.
To talk to our team and learn more, just fill out that form below.
*This content is provided for informational purposes only. All claims are based  on average Capterra ratings from verified user reviews at the date of publication. Ratings are collected on a 1-to-5 basis.